For the very best in men's haircuts and hair services, Adam's Barber Chair is the place to go if you're in Mississauga, Cooksville, Erin Mills, Streetsville, or Port Credit, ON. Since 1989, we have relied on the belief that men deserve expert hair care at reasonable prices. Our barbers are knowledgeable experts when working with any type of hair. Whether you are looking for a classic trim or a contemporary new style, come into Adam's Barber Chair for men's hair cuts in Mississauga, ON.



Men's Haircuts:

Men's haircuts require a specialized expertise. Too often men's barbershops offer a one-size-fits-all style of cut and it shows in the quality. We truly understand men's hair and take the time to give you a cut that is tailored to your style, by providing both classic and contemporary hair cuts. While often the cut is subtle, this does not mean that it is simple. We can be sure all of our customers get exactly what they are looking for at Adam's Barber Chair.




Men's Hair Coloring and Highlights:

Whether you're looking to add a little highlight or you want a total change in hair color, we can help you. We are experts in men's hair coloring and can get you to any shade you prefer.




Hair Products:

One of the best parts about visiting the barber in Mississauga is walking out with a great cut and a great product in your hair. Now, you can take that product home with you for every day use. We offer a bevy of hair care products to help you look your very best. Our top quality brands include American Crew and DFI, among others.



Straight Razor Shaves:

Some things never go out of style. Straight razor shaves have been around for years, but they are still the very closest, cleanest shave a man can receive. We recognize this and have trained our barbers in giving straight razor shaves in Mississauga, ON. You haven't really shaved until you've shaved with a straight razor!




Beard Trims:

Is your beard or moustache getting a bit unruly?
Come in to Adam's Barber Chair and we'll trim it up in any style you prefer.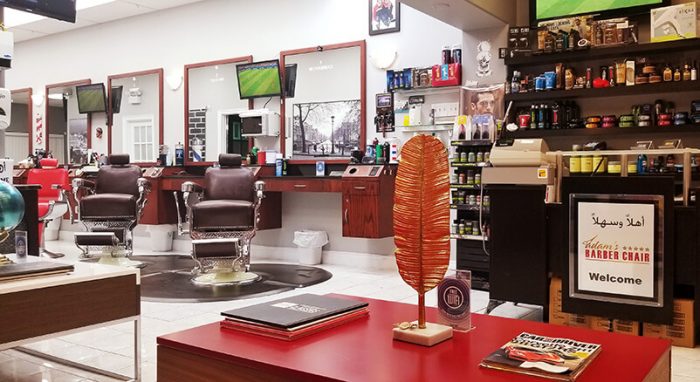 Hair Removal & Styling
Here at Adam's Barber Shop we're also a genuine Arabic Barber Shop. That means we are not just experts in western style barbering techniques but we're also well versed in all facets of Arabic barbering methods, including threading for facial hair removal and Mediterranean and Middle Eastern beard trimming techniques.
For the very best in men's haircuts and services, call Adam's Barber Chair at 289-521-2326 to schedule your appointment or to learn more about any of the products and services that we offer.